Hello
I would like to present Bugs Must Die. I hope you like it.
About
Bugs Must Die
As an elite from the Galactic Pests Control Company, gamers are sent to the planet M-79 to prevent Mantis Beings from invading Earth. On the terrestrial planet, gamers not only have to destroy the cruel Mantis soldiers but also battle with the various Bosses cloned from Earth pop culture.
In
Bugs Must Die,
gamers can control a heavy armored vehicle equipped with multiple weapons to gallop on the battlefield. They can also use Mantis Agents who have completely different fixed-weapon systems shooting to dodge their way through the Bullet-hell. There are RPG elements as well; Gamers are able to upgrade their character, vehicles, and/or weapons to take down the bugs with ease.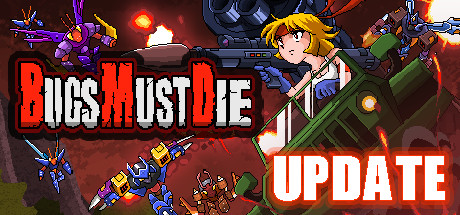 Shooting them with a machine gun, blasting them with missiles, dashing them with a vehicle, whipping them with an energy chain, or burning them with a napalm...No matter how you get it done, "ALIEN BUGS MUST DIE! store.steampowered.com
Price:
$ 11.99, £9.29, €9.99 and CNY ¥40
Features
Gamers of any levels can beat the Story Mode!
Hard core gamers: Try to beat the game using just the basic weapons-show off your superb skills.
Average gamers: Never fear! Spend coins obtained from missions to update your vehicles and weapons to take down the bugs with ease.
Different characters to choose from! Equip them with various weapons to show off your unique fighting style!
2 Mantis Agents that have completely different fixed weapon systems and rolling dodge mechanisms.
3 powerful vehicles: Equip up to 6 main weapons and 9 sub-weapons, but that's not all! Equip a "Battle Core" which deploys when your vehicle is destroyed to keep the fight going!
4 major categories of equipment with more than 35 options. Did we mention the super weapon !? It launches a full-screen attack! BOOOOOOM!!!
Story Mode, Challenge Mode and Hell Mode will bring well over 10 hours of gameplay.
Story Mode: 16 levels with one boss per level, clearing all the levels will unlock all characters!
Challenge Mode:In addition to the 16 bosses from Story Mode, you'll encounter additional secret bosses randomly. To come across all available bosses, Challenge Mode is a must!
Hell Mode: The more levels that you pass the greater the loot!
All Bosses are parodies of East-West pop culture icons.
About DragonGlass Games Workshop
DragonGlass Games Workshop is an independent game studio established in March 2016 and is located in Shanghai, China. The goal of this studio is to create "Fun, Challenging and Beatable" indie games for gamers.
Website:
https://dggamesworkshop.com/
Twitter:
https://twitter.com/dgGamesWorkshop